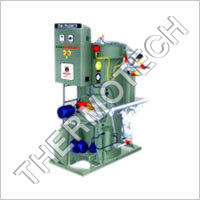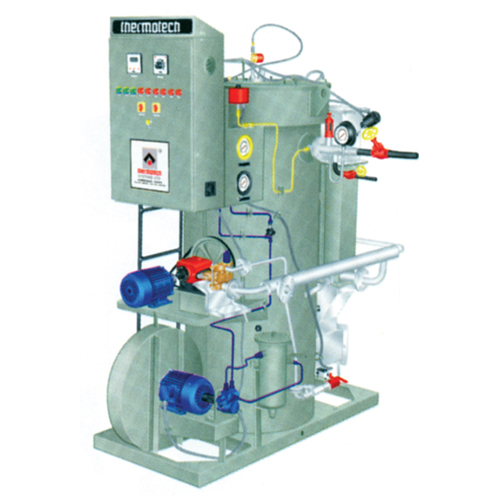 Price And Quantity
500000.00 - 2000000.00 INR/Unit

1 Unit
Product Specifications
Gas Fired

Medium Pressure

As Per capacity. Millimeter (mm)

Vertical

Other

Heat Transfer.

New
Trade Information
10 Unit Per Month

4-6 Week

All India
Product Description
We are an unparalleled and highly acclaimed name, engaged in manufacturing, exporting and supplying premium range of Gas Fired Steam Boiler. The provided boiler is manufactured at our well-equipped production unit by making use of the finest quality components and modern manufacturing techniques. The offered boiler is widely used to boil air, oil and gas, water. Finds broad applications in air conditioning and pneumatic control systems, the provided Gas Fired Steam Boiler is availed from us at market leading rates.
Features:
·        Compact design
·        Dimensional accuracy
·        Strong construction
·        Accurate and error free reading

The "THERMOTECH" uni steam generating system essentially comprises of a fully automatic reverse flame package type steam generator, which consists of membrane type helical coil integral combustion chamber accommodated in S.S. and insulated shell. The hot fuel outlet is connected to smoke tube preheater to preheat feed water. The feed water pump, blower, fan, fuel pump are mounted on common base frame. The steam generators are suitable to generate dry saturated steam from 200 kg/hr. to 800 kg/hr. at 15 kg/cm maximum pressure.
Â
PARAMETERS

UNIT

MODELS

Â

 Â

RF 10

RF 20

RF 30

RF 40

RF 50

RF 60

RF 85

Â

OPERATING DATA

 Â

Â

SEMI OUTPUT (F & A 100oC)

Kg/hr.

100

200

300

400

500

600

850

Â

STEAM PRESSURE

Kg/cm2

10.5 or 15

Â

MAX. STEAM TEMPERATURE

oC

185Â

Â

BURNER MODULATION

 Â

AUTO ON - OFF

Â

THERMAL DATA

 Â

 Â

Â

EFFICIENCY ON NCV

%

88

RATED FUEL
CONSUMPTION

LDO

Kg./hr.

6

12

18

24

30

36

51

Â

F.O.

Kg./hr.

-

-

-

25.4

31.8

38.1

54

ELECTRICAL DATA

Â

415 VOLTS AC, 50 HZ, 3 PHASE, 4 WIRE

Â

FEED WATER PUMP MOTOR

KW

0.56

0.75

0.75

0.75

0.75

0.75

1.5

Â

FUEL PUMP MOTOR

KW

-

-

0.375

0.375

0.375

0.375

0.375

Â

BLOWER MOTOR

KW

1.5

1.5

1.5

1.5

1.5

1.5

3.75

Â

FUEL PREHEATER (F.O)

KW

-

-

-

-

3

3

6

Â

TOTAL CONNECTIED LOAD

HSD

KW

2.06

2.06

2.625

2.625

2.625

2.625

5.375

Â

F.O.Â

KW

-Â

 -

-Â

-Â

5.625Â

5.625Â

11.375


REVERSE FLAME UNI-STEAM SYSTEM

The uni-steam generating system is comprised of: An automatic 2 or 3 pass package type steam generator consisting of helical membrane coil type integral combustion chamber accommodated in M.S./S.S. & insulated shell. The hot flue outlet is connected to smoke tube vertical feed water preheater. The feed water is first passed through preheater which eliminates dissolved gases from feedwater, then through a high pressure triplex plunger pump, the water is feed to the helical coil. The water is slowly transformed into dry saturated steam.

BURNER

The steam generator is equipped with fully automatic pressure automising type burner consisting of micro holed nozzle, sparking electrodes, photocell flame sensing device for silent operation, diffuses plate for mixing air, high pressure gauge pump coupled with forced draught blower.

FEED WATER PUMP

The triplex plunger pump coupled with 3 phase electric motor is provided which feeds the water at 70 to 80oC temperature upto 20 Kg/cm2 pressure, with release valve for safety.

FEED WATER TANK

A MS. fabricated service tank of 1000Lts. capacity is equipped with the level indicator, Electric water level control with dead level sensor which cuts off the firing of the boiler in case of no water in the service tank. The level controller automatically maintain the water level of the feed water tank.

INSTRUMENTATION AND CONTROLS

Uni-system is fully automatic & safe for unattended operation, the normal operation of the steam generation is governed by an electronic sequence controller, which in case of abnormal operating conditions sound an audiovisual alarm and trips the system to stop. Once the fault is cleared restart the unit. The all instruments of safety interlocks, indicators and alarm are mounted in control panel board.

AUTO CONTROLS AND SAFETIES

High/Low Pressure Control Switch

Automatic burner/feed pump cut off and restart at the set steam pressure.

Water Level Controller

Auto level controller maintain feed water tank level. Level switch actuated audio visual alarm and automatic system cut off in case of dead water level.

Flame failure

Photocell actuated audio visual alarm and automatic cut off.

Steam Temperature Controller

The digital temperature controller cut off the burner in case of high steam temperature.

Starting Pressure Safety

The burner and feed pump are synchronized by pressure switch which ensure, the minimum pressure by manual push start to put the unit to automatic.

NON-IBR DESIGN
The uni-steam generator is exempted from IBR act-1950.

No qualified boiler attendant required.

No special boiler house required, the unit can be installed near utility, which save line loses.
TYPICAL APPLICATIONS
Textile Industry

Food Industry

Chemical Dyestuff and Pharmaceutical Industry

Rubber Industry

Petroleum Industry

Soap and Detergent

Dairy

Laundry
PERFORMANCE AND FUEL CONSUMPTION BASED ON

FUEL
LDO - having NCV of 10050 Kcal/kg, K-Viscosity at 40ÃÃâ€Â ÃƒÆ'ƒÂ¢Ã¢â€šÂ¬Ã¢â€žÂ¢ÃƒÆ'ƒâ€ ÃƒÆ'ƒÆ'¢â'¬â"¢ÃƒÃ†Ãƒ¢â'¬â"¢ÃƒÆ''¢Ã¢â€šÂ¬Ã…¡ÃÆ'Ãâ€Â ÃƒÆ'ƒÂ¢Ã¢â€šÂ¬Ã¢â€žÂ¢ÃƒÆ'ƒÂ¢Ã¢â€šÂ¬Ã…¡Ãƒâ€šÃ'°C in CST 5 to 10

FO - having NCV of 9650 Kcal/kg, K - Viscosity at 50ÃÃâ€Â ÃƒÆ'ƒÂ¢Ã¢â€šÂ¬Ã¢â€žÂ¢ÃƒÆ'ƒâ€ ÃƒÆ'ƒÆ'¢â'¬â"¢ÃƒÃ†Ãƒ¢â'¬â"¢ÃƒÆ''¢Ã¢â€šÂ¬Ã…¡ÃÆ'Ãâ€Â ÃƒÆ'ƒÂ¢Ã¢â€šÂ¬Ã¢â€žÂ¢ÃƒÆ'ƒÂ¢Ã¢â€šÂ¬Ã…¡Ãƒâ€šÃ'°C in CST 150 to 300
WATER (AFTER TREATMENT)
Total Disolved Solids: Less then 300 mg./lit.

Total Alakalinity: 20% of TDS (Min)

PH.: 10 to 10.5

Sulphides: 30 to 50 mg./lit.

Phosphates: 20 to 40mg./lit.

Total Hardness as CaCo3: Commercially zero (less than 2 to 5 PPM)

Dissolve Oxygen: 0.01 to 0.02mg/lit.
ALL PRESSURE PARTS ARE OUTSIDE THE PREVIEW OF "INDIAN BOILER REGULATIONS".
Steam Point Boilers & Heaters Pvt. Ltd.
Other Products in 'Oil Gas Fired Thermic Fluid Heater ' category
"We are mainly dealing in Madhya Pradesh."
Steam Point Boilers & Heaters Pvt. Ltd.
# 105, Royal House, 11/3, Usha Ganj, Near Bright School, Indore - 452001, Madhya Pradesh, India
Phone :91-731-4236788
Mr S K Chhabra (Director)
Mobile :+919826329104, +919926906514